Are you suffering from frequent backaches and body aches? Not sure what exactly you can do? When you wish to give yourself the required relief from pain and escape from the everyday stress, there is nothing better than a luxurious body massage. Getting a body massage with a good quality essential oil can allow you to alleviate pain and promote relaxation. These essential oils are also important for our mental, physical and emotional well-being. We have come up with a quick guideline on using essential oils for body massage.
What Is An Essential Oil Massage?
Essential oil massages are aromatherapy massage that uses aroma to heal the body from within. It also uses the actual therapeutic massage technique to help you get rid of your pain. In an essential oil massage, a few drops of essential oils are added to the massage oil and applied topically to the body. This has a big role in helping you get rid of the pain. It also lowers your heart rate and stress level. Essential oils have also got a major role to play in boosting your overall immunity.
Benefits Of Using Essential Oils For a Body Massage:
There are multiple benefits of using essential oils for body massage. You do not always have to visit a massage parlor or a spa to get your massage done. You can do your massage at your home and experience the benefits.
By using an essential oil massage, you will be able to calm the sore muscles of the body. This is especially useful in healing sports injuries. So, if you are an athlete, you may try getting oil massages frequently. This will also allow you to reduce inflammation and improve your level of flexibility.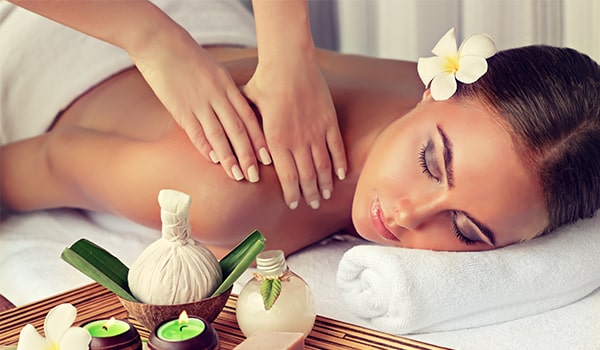 Essential oil massages can help to give relief backaches of all kinds. This is especially useful for people who sit in a particular posture for prolonged durations of time. You can also use essential oils to relieve joint pain and muscle stiffness.
Essential oil massage has a very big role in improving the blood circulation level. With regular massage, the blood flow to the different parts of the body will increase, which will improve your overall health.
Essential oil massage can help you to get rid of stress and anxiety. You will get relief from the inside. This is also going to improve your mental and emotional health. You will get a feeling of euphoria, and you will be able to focus better on work. It will also help you to manage depression.
Essential oils are really good for the skin. They will provide the required amount of nourishment to the skin. They also have a moisturizing effect on the skin. With regular usage, your skin will become bright and supple.
And these are some of the benefits of using essential oils for body massage. You can also Buy body Massage oils online from our store.